Hot-electron superconducting nanobolometers-sensors and arrays of them for high sensitive Terahertz frequency range imaging radiometers

V. A. Cherepenin, A. N. Vystavkin, A. G. Kovalenko, S. V Shitov, O. V. Koryukin, I. A. Cohn, A. A. Kuzmin, A. V. Uvarov, A. S. Il'in
Kotel'nikov Institute of Radioengineering and Electronics of RAS

Received March 22, 2011
Abstract. The comparative review of investigations and development state of super high sensitive superconducting nanobolometers-sensors for terahertz frequency range imaging array radiometers is presented. The conclusion concerning preferred design of such bolometers is made. Hot-electron nanobolometers with combined radiation absorber and transition edge sensor (TES) are most promising for the achievement of utmost high sensitivity as opposed to bolometers which radiation absorbers are made as suspended membranes and transition edge sensors are just membrane temperature measuring elements. Dimensions of absorber-TES combination have to be small to the limit – down to tens of nanometer, and operation temperature has to be super low – down to 30 – 40 mK. The networks of immersion lens, planar antenna, microstrip and coplanar lines with nanobolometer coupled into them have to be used to match THz radiation energy transfer to such small nanobolometers. The design, fabrication technology and application of imaging radiometers using mentioned above nanobolometers-sensors are considered.
Keywords:  terahertz detector arrays, utmost high sensitivity, imaging radiometers.
Аннотация. Представлен сопоставительный обзор состояния исследований и разработок сверхчувствительных сверхпроводниковых наноболометров-сенсоров для матричных изображающих радиометров терагерцового диапазона частот. Сделан вывод о предпочтительной конструкции таких болометров. Наиболее обещающими с точки зрения достижения максимально высокой предельной чувствительности являются наноболометры на горячих электронах с сенсором на краю сверхпроводникового перехода (СКП = TES), совмещенным с поглотителем излучения, в противоположность болометрам, у которых поглотителем излучения являются подвешенные мембраны, а сенсоры на краю сверхпроводникового перехода являются элементами, измеряющими температуру мембран. Размеры совмещенного поглотителя-СКП должны быть предельно малыми: вплоть до нескольких десятков нанометров, а рабочая температура должна быть сверхнизкой: вплоть до 30 – 40 мК. Для согласования при передаче энергии терагерцового излучения к таким малоразмерным наноболометрам должны быть применены интегральные блоки, состоящие из иммерсионных линз, планарных антенн и микрополосковых и копланарных линий с включенными в них наноболометрами. Рассмотрены конструкция, технология изготовления и применения изображающих радиометров с названными выше наноболометрами-сенсорами.
Ключевые слова: матрицы терагерцовых детекторов, предельно высокая чувствительность, изображающие радиометры.
1. Nanobolometers. At the present time the electromagnetic oscillations of transitional (between millimeter and far infrared ranges) frequency range f = 0.3 – 10 THz (λ = 1 mm – 30 μm) and the corresponding detector devices find applications in several spheres: astronomical observations of farthest galaxies, development and application of security systems, apparatus for medical diagnostics, environment monitoring devices, various production control procedures including staple foods and so on. Nanobolometers based on the very low temperature superconducting nanostructures being in transition state are very important for the listed above applications. Why nanobolometers? The well known quasiparticle Cooper pair [1] has acquired recently one more name – "nanoparticle". Fig. 1 explains this.

Fig. 1. The Cooper pair – nanoparticle.
When this nanoparticles are occurring in a thin film structure of nanometer thickness: a single layer of superconductor or in a two-layer "superconductor - normal metal" structure – the very important physical properties reveal themselves: dimension effect in the superconducting single layer structure and proximity effect in the two-layer "superconductor - normal metal" structure [1]. Characteristic thicknesses of thin films in both cases are 10 –100 nm order what is commensurable with dimension of nanoparticle "Cooper pair". Both named above effects result in possibility to adjust an operating temperature of nanobolometer by force of the adjustment of layers thicknesses to operation temperature of cryorefrigerator which cools nanobolometer. The next substantial argument – the dependence of the noise equivalent power of nanobolometer on temperature T and absorber volume v of nanobolometer as

[2]. As we have seen the thickness is enough small (10 – 100 nm). The transversal dimensions have to be as small as possible as well. The available fabrication technology being in our disposal provides dimensions up to ~ 1 μm × 100 nm.
 2. Nanostructure effects. Experiments on said above nanostructure effects study are described in this section.
2.1. The dimensional effect in the single thin film superconducting structure. The dimensional effect occurs in the single thin film superconducting structure at very low temperatures. The effect is a partial suppression of superconductivity on the score of short distance (10 – 30 nm) between thin film boundaries. The partial suppression intensifies significantly the boundaries influence on interaction of paired electrons what reduces superconductivity transition temperature. We have studied [3] this effect in superconducting titanium thin film (Fig. 2). The superconductivity transition temperature was reduced from ~ 387 to ~ 297 mK, i. e. for ~ 23 % as it is necessary to match this temperature with operation temperature of 3He sorption cryorefrigerator.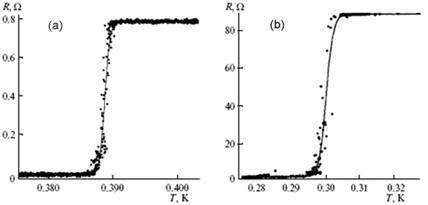 Fig. 2. The dimensional effect in superconducting titanium thin film structure; films thickness: (a) 320 nm, (b) 30 nm [3].
2.2. The proximity effect in two-layer thin film structure "superconductor - normal metal". We have described this effect earlier [4] but repeat description briefly here for generality. This effect is the mutual partial penetration for nanometer distances of Cooper pairs from superconductor to normal metal and normal electrons in opposite direction [5]. These displacements result in the partial suppression of superconductivity in two-layer thin film structure. The possibility of the reducing the superconductivity transition temperature Tc in two-layer thin film structure "molybdenum – copper" was studied in the laboratory of authors together with P. L. Kapitza Institute of Physical Problems of RAS [4] in respect of TES-nanobolometers (Table 1 and Fig. 3). Sample I is of single-layer molybdenum.  It is given here as initial one to demonstrate the critical temperature lowering due to proximity effect.